At Mattress City, you can feel comfortable online shopping with our installment plan with 0% interest fee up to 6 month. The minimum purchase order is from 6,000 THB to be applicable for this installment promotion.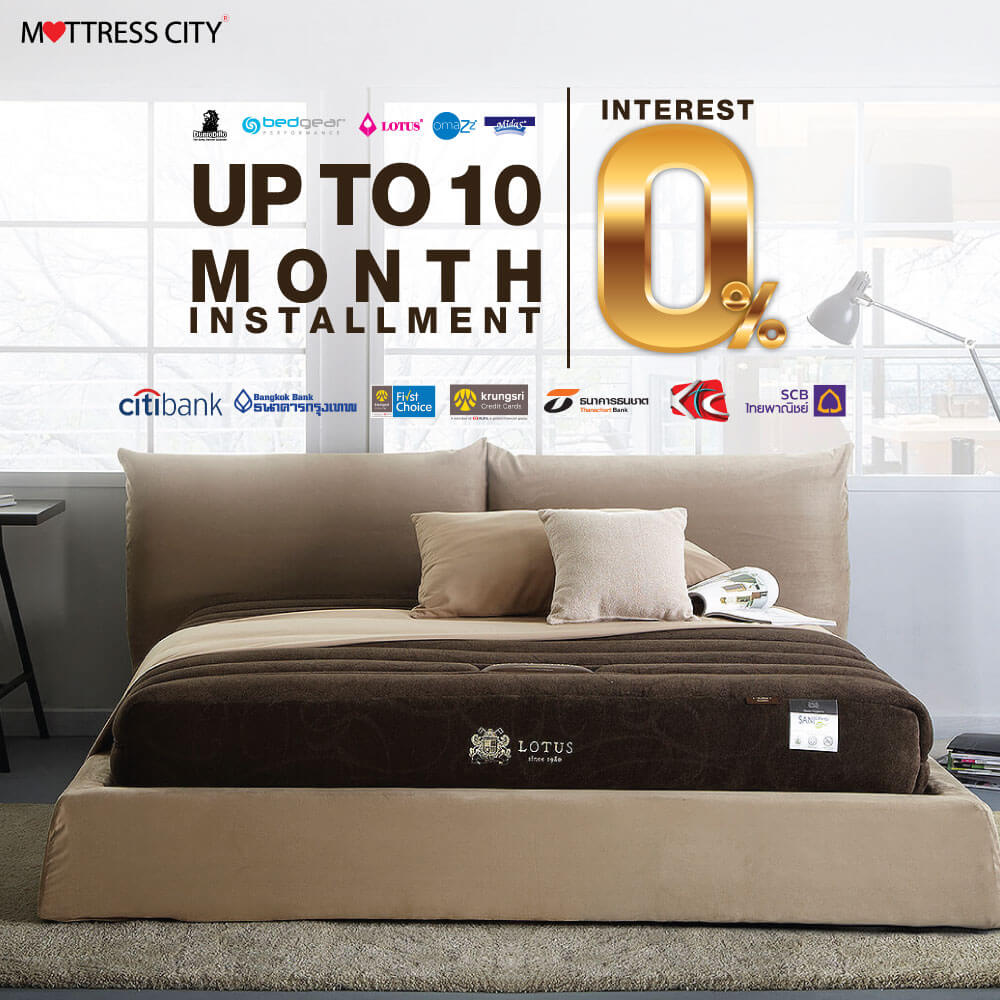 The terms and conditions as below:
The banks applicable for this promotion: Citibank , Bangkok bank , Krungsri First Choice , Krungsri , KTC , SCB , TBANK
You can divide your installments into 3 months, 4 months or maximum 6 months with 0% interest fee per month.
During the installment, your responsibility is with the bank of your issued credit card.
An example for installment promotion. With the order amount 30,000 THB, you will have to pay:
Minimum purchase amount 6,000 baht - 9,999 baht Be able to pay in installments for up to 4 months.
Purchase amount 10,000 baht - 29,999 baht Be able to pay in installments up to 6 months
Orders of 30,000 baht or more Be able to pay in installments up to 10 months.
*Note: UOB credit card owners can only do 0% interest-fee installment for 4 and 6 months. With 3-month installment, the interest fee will be applied.
How to proceed the 0% installment promotion.
Choose your favorite items and add to your cart. (Make sure your total order is at least from 6,000 THB)
Proceed to check out step and choose option: "Pay by Debit/Credit Card by 2C2P"
You will be redirected to 2C2P payment gateway. Next, you have to choose tab "Installment" and choose the bank where your credit card was issued.
Follow the payment step and fill in the information.
You are all set then.
In case you have any question about this installment plan, please do not hesitate to contact our customer support at:
Hotline : 0622462494
Email : support@mattresscity.co.th
Don't know where to start? Let us guide you through this.
Buy your favorite Lotus mattress, Dunlopillo mattress, Omazz mattress, Midas mattress, and Bedgear mattress with 0% interest up to 6 months installment at: https://mattresscity.co.th/en/mattress.html
Buy your favorite Lotus bed linen, Dunlopillo bed linen, Omazz bed linen, Midas bed linen with 0% interest up to 6 months installment at https://mattresscity.co.th/en/bed-linen.html
Buy your favorite bedding accessories such as pillow, bolster, mattress protector, duvet, topper, mattress pad, bed frame, pillow protector with 0% interest up to 6 months installment at https://mattresscity.co.th/en/accessories.html